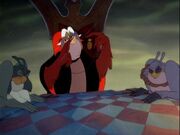 The Owls' Picnic is a song from Rock-A-Doodle, sung by the Grand Duke of Owls and his followers as they are planning to eat up the farm animals, as soon as they have finally run out of batteries for their flashlight.
Lyrics
THE OWLS:
Who, who, who, who
We are the creatures of the night
And we invite you all for dinner
There's plenty of food to go around
When the food is you!
STUEY:
Who me?
THE OWLS:
Yes, you!
We thought a picnic would be nice
And we're so pleased that you could join us
We're glad you're home
Trick or treat
Fa-la-la-la-la-la
How sweet!
THE DUKE:
Now's the time
Say your prayers...
Time's up!
THE OWLS:
Fa-la-la-la-la-la
How sweet!
Fa-la-la-la-la-la
Let's eat!
Community content is available under
CC-BY-SA
unless otherwise noted.