m

 

Line 6:
Line 6:
 

[[Category:A Troll in Central Park Actors]]

 

[[Category:A Troll in Central Park Actors]]

 

[[Category:Thumbelina Actors]]

 

[[Category:Thumbelina Actors]]

 
+

{{DEFAULTSORT:Glover, Tawny Sunshine}}
---
Latest revision as of 00:51, 10 August 2019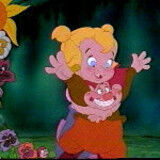 Tawny Sunshine Glover (born October 20, 1986) is a former child actress. She did two roles for two Don Bluth films: Gnatty in Thumbelina and Rosie in A Troll in Central Park, both released in 1994. Those were not only her only Don Bluth films... in fact, they were the only films she did, period. This must be because she didn't want to end up like Judith Barsi who was murdered (along with her Mom) by her father (who killed himself in the garage) because of acting. Tawny's current location is not well known to other people because she never gave a clear description of her biography except for her date of birth. It's possible she's currently living in her hometown but no proof is explained. It's also likely she might never go back to acting; then again, she could be making a come back to her career, although logic has yet to be proven. Lastly, no actual images of her can be found on the internet because either her or her parents want to keep her life private. It might be possible that Tawny has a similar resemblance to her character Rosie, but no proof has been found yet. The only people who have actually seen her more recently are her family and friends (fans of the Don Bluth films have yet to see a recent photo of her or hear any news about the long inactive actress).
Community content is available under
CC-BY-SA
unless otherwise noted.