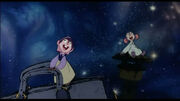 "Somewhere Out There" is the song from An American Tail. It is sung by Fievel (Phillip Glasser) and Tanya Mousekewitz, as they are far away. In the pop version, it was sung by James Ingram and Linda Ronstadt. It was nominated for a Golden Globe and an Academy Award both for Best Original Song, but it lost both to "Take My Breath Away" from "Top Gun".
Lyrics
Fievel: Somewhere out there,
beneath the pale moonlight,
someone's thinking of me and loving me tonight.
Tanya: Somewhere out there,
someone's saying a prayer,
that we'll find one another in that big somewhere out there.
And even though I know how very far apart we are,
it helps to think we might be wishing on the same bright star.
Fievel: And when the night wind starts to sing a lonesome lullaby,
it helps to think we're sleeping underneath the same big sky.
Together: Somewhere out there,
if love can see us through,
then we'll be together, somewhere out there,
out where dreams come true.
Videos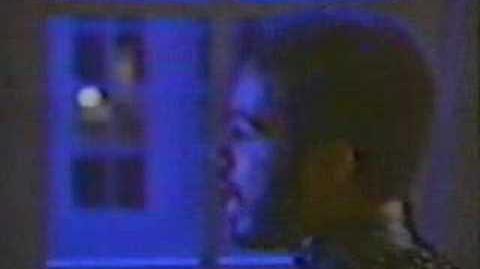 Community content is available under
CC-BY-SA
unless otherwise noted.