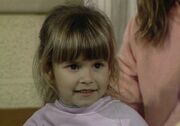 Judith Eva Barsi (June 6, 1978 – July 25, 1988) was an American child actress. She was small in stature and often played characters younger than her actual age. After years of physical and mental abuse, Barsi and her mother were shot and killed by her father, József, in a murder-suicide. Her favorite role was Ducky in The Land Before Time and her final role was Anne-Marie in All Dogs Go to Heaven. These were her only animated roles in general. She did not live to see either film premiere, as both were released posthumously. It was said that she really liked the film's director Don Bluth and wanted to continue doing voice work with him into adulthood. The song "Love Survives" is dedicated to her memory, and on her gravestone it says: "Our Concrete Angel, Yep, Yep, YEP!"
She and Heather O'Rourke have more tributes than any other actor or actress out there.
Community content is available under
CC-BY-SA
unless otherwise noted.