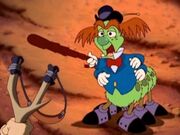 Cecil is a caterpillar con-artist and the tritagonist of The Secret of NIMH 2: Timmy to the Rescue. He is voiced by the late Meshach Taylor.
Personality
Cecil is a funny con artist who loves to scam on his enemies.
Trivia
Cecil is based on the comedian actor Ed Wynn who voices the Mad Hatter from the 1951 Disney's film Alice in Wonderland.